The Chisholm Trail fundamentally changed the American West.
From the birth of the cowboy as icon to the revival of the cattle industry, the Old Chisholm Trail helped shape our popular culture by altering how we thought of the American West and the individuals who lived there.
The Chisholm Trail: Driving the American West is a celebration of the 150th anniversary of the Chisholm Trail. This traveling exhibit invites visitors of all ages to explore the Chisholm Trail from its inception in the late 1860s to today.
The exhibit design embodies the spirit of the West in look and feel. The materials and design methods evoke worn wood, torn paper, and oiled metal, imbuing your traveling exhibit space with an Old West feel.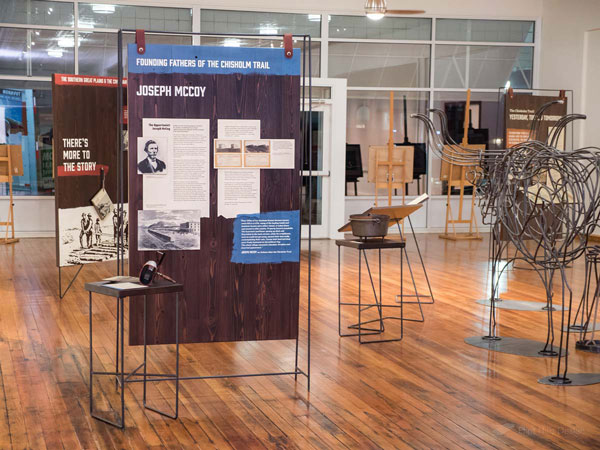 Exhibit fee Starts at $120/day
Duration Flexible!
Target audience All ages
Square footage for full exhibit 1,500 ft2
Shipping fees Renter pays inbound shipping
Chisholm Trail Schedule
Cost starts at $120 / day, with daily rate declining for longer bookings.
You set the schedule. Dates must be contiguous. Contact us for a quote.
---
We're extending the tour! Reserve your spot today.
Upcoming Bookings
Aug 29 - Oct 9, 2019 - Old Cowtown Museum - Wichita, Kansas •
Sept 7 - Oct 17, 2020 - Temple Railroad & Heritage Museum - Temple, Texas •
Pending Bookings
Oct 15 - Nov 13, 2019 - Kansas
Apr 22 - Jul 15, 2020 - Florida
May 1 - May 27, 2020 - Ohio
Past Bookings
| | |
| --- | --- |
| Jan 12 – Mar 7, 2017 | Symphony in the Flint Hills |
| Mar 9 – May 2, 2017 | Wichita-Sedgwick County Historical Museum |
| May 4 – Jun 27, 2017 | Caldwell Chamber of Commerce |
| Jun 29 – Aug 22, 2017 | Lyon County History Center |
| Aug 24 – Oct 17, 2017 | Dwight D. Eisenhower Presidential Library & Museum |
| Oct 19 – Dec 12, 2017 | Museum at Prairiefire |
| Dec 14, 2017 – Apr 3, 2018 | Kauffman Museum |
| Apr 5 – May 29, 2018 | Dane G Hansen Memorial Museum |
| May 31 – Jul 24, 2018 | Elgin Hotel |
| Jul 26 – Sep 18, 2018 | Kansas Museum of History |
| Sep 20 – Nov 13, 2018 | Boot Hill Museum |