The Chisholm Trail fundamentally changed the American West.
From the birth of the cowboy as icon to the revival of the cattle industry, the Old Chisholm Trail helped shape our popular culture by altering how we thought of the American West and the individuals who lived there.
The Chisholm Trail: Driving the American West is a celebration of the 150th anniversary of the Chisholm Trail. This traveling exhibit invites visitors of all ages to explore the Chisholm Trail from its inception in the late 1860s to today.
The exhibit design embodies the spirit of the West in look and feel. The materials and design methods evoke worn wood, torn paper, and oiled metal, imbuing your traveling exhibit space with an Old West feel.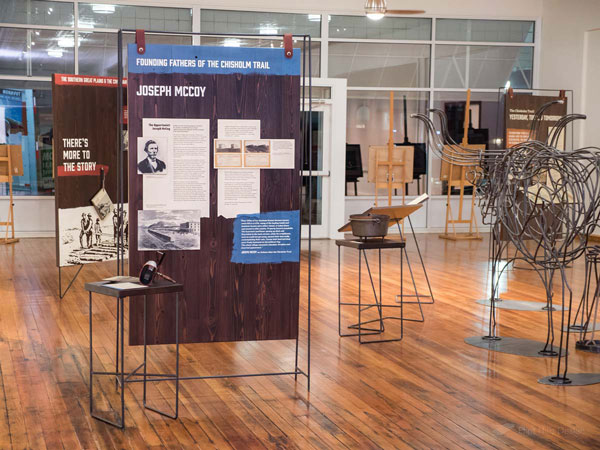 Exhibit fee Starts at $120/day
Duration Flexible!
Target audience All ages
Square footage for full exhibit 1,500 ft2
Shipping fees Renter pays inbound shipping
Chisholm Trail Schedule
Cost starts at $120 / day, with daily rate declining for longer bookings.
You set the schedule. Dates must be contiguous. Contact us for a quote.
---
We're extending the tour! Reserve your spot today.
Upcoming Bookings
Aug 29 - Oct 9, 2019 - Old Cowtown Museum - Wichita, Kansas •
Sept 7 - Oct 17, 2020 - Temple Railroad & Heritage Museum - Temple, Texas •
Pending Bookings
Oct 15 - Nov 13, 2019 - Kansas
Apr 22 - Jul 15, 2020 - Florida
Past Bookings
| | |
| --- | --- |
| Jan 12 – Mar 7, 2017 | Symphony in the Flint Hills |
| Mar 9 – May 2, 2017 | Wichita-Sedgwick County Historical Museum |
| May 4 – Jun 27, 2017 | Caldwell Chamber of Commerce |
| Jun 29 – Aug 22, 2017 | Lyon County History Center |
| Aug 24 – Oct 17, 2017 | Dwight D. Eisenhower Presidential Library & Museum |
| Oct 19 – Dec 12, 2017 | Museum at Prairiefire |
| Dec 14, 2017 – Apr 3, 2018 | Kauffman Museum |
| Apr 5 – May 29, 2018 | Dane G Hansen Memorial Museum |
| May 31 – Jul 24, 2018 | Elgin Hotel |
| Jul 26 – Sep 18, 2018 | Kansas Museum of History |
| Sep 20 – Nov 13, 2018 | Boot Hill Museum |
Testimonials
---
"Flint Hills Design produces meticulously researched exhibits that are thoughtful, compelling, evocative, and beautifully crafted. Always mindful of visitor experience and museum resources, their exacting standards are on display with every exhibit they create." Jami Frazier Tracy
Curator of Collections, The Wichita-Sedgwick County Historical Museum
---
"Caldwell's very existence was due to the cattle drives of the Chisholm Trail. Hosting the commemorative 150th exhibit in our beautiful Opera House during our annual Chisholm Trail Festival was the sparkling crown on this "Border Queen" city. A very professional and well-done exhibit."
"This exhibit contributed immensely to our annual Chisholm Trail Festival & brought visitors in to pump up our crowd numbers. Perfect fit for us. Beautifully displayed in our renovated Opera House on the intersection of a state & a US highway. It received great attention. High school history classes and grade school toured our exhibit & local history." Jill Kuehny
Caldwell Historical Society
Frequently Asked Questions
What is required to lock in our reservation?
A verbal commitment gets you started (we put the PENDING notification on the calendar), but we require a deposit and a signed hosting agreement to lock it in for sure. If you're thinking about reserving a date, let us know and we'll hold it for you until you can get approval for payment.
How does the exhibit travel?
We deliver it and set it up for you! Read about our White Glove Delivery & Installation.
I've seen "Founding Institutions" listed on your exhibits before. What does that mean?
We like to recognize those that support our projects from the very beginning. So for the first 5 institutions that book the exhibit, we acknowledge their support by including them in the exhibit credits. It's a small way of showing our gratitude for those that help to bring these exhibits to life!
Founding Institutions
---
Thanks to the following institutions for being willing to support this project from the very beginning. We couldn't have done it without you!
Wichita-Sedgwick County Historical Museum
Caldwell Chamber of Commerce
Eisenhower Foundation
Kauffman Museum
Boot Hill Museum
Is this exhibit kid-friendly?
Absolutely! Here are a few photos of a visit with kids.
My boys have been asking endless questions about the Chisholm Trail, so we decided it was time for a visit to see the exhibit! They had a great time.

Posted by Flint Hills Design on Saturday, February 4, 2017
Man it's fun when an exhibit comes together! Only one week left until this one hits the road. It's gonna be great!

Posted by Flint Hills Design on Tuesday, January 3, 2017
Several of us enjoyed this year's Symphony in the Flint Hills signature event in Chase County today. Sketching new exhibit ideas while listening to great music in the middle of the prairie is tough to beat!

Posted by Flint Hills Design on Saturday, June 11, 2016
We're not a museum, but we'd still like to host the traveling exhibit. Is that possible?
You certainly don't have to be a museum to host the exhibit, or even a non-profit. So long as you have the space and meet the basic security requirements, you can be a valid host. Please send us a message letting us know your situation and we'll get the process started!
I'd like to follow along on future projects that you're building. What's the best way to stay in touch?
That's awesome. We're glad you like what you see. We post a lot of in-progress photos on Facebook, so like us there to see what's going on. Also, we'd love it if you would join our mailing list. We only send out the good stuff through there–we're not fans of excess email. Just fill out this form and you'll be in!