Encountering John Brown
currently in development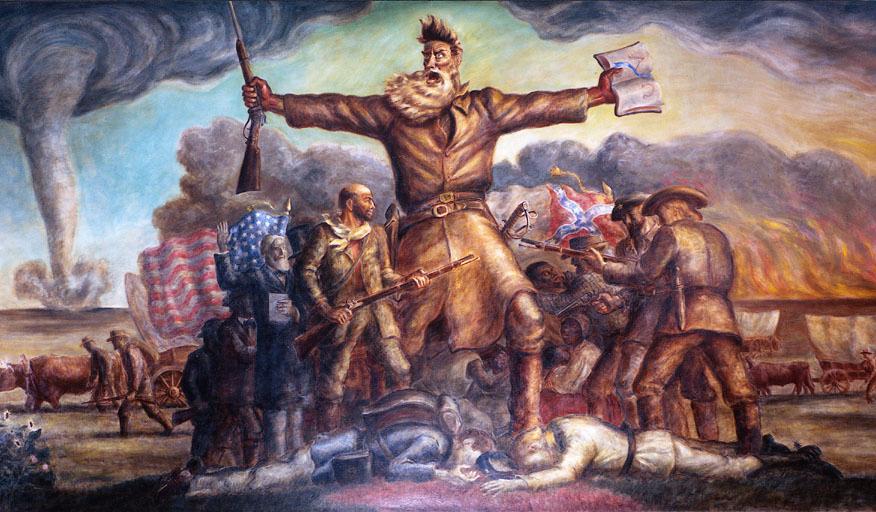 Learn about this radical abolitionist through his encounters with key Civil War-era figures such as Harriet Tubman and Robert E. Lee.
Here's what we know so far:
The John Brown exhibit will be similar in size to our other Overland exhibits. It will have some large three-dimensional elements that visitors can walk around and peer through, and will likely feature a "larger-than-life" sculpture of John Brown, since portraying John Brown as a larger-than-life character is one of the main ideas behind the exhibit. We haven't decided any details around this sculptural element yet, but it will likely take inspiration from the John Steuart Curry painting of John Brown in the Kansas state capitol building.
The story centers around John Brown's encounters with other important figures during his life, and his role in helping to spark the Civil War.
The exhibit will probably ask visitors whether they think John Brown's use of violence was acceptable (the exhibit won't be judgemental, but will simply present views from both sides of the coin and ask visitors to reflect on his approach). It will also likely include a couple small audio-visual units to help visitors remember the context of the time period.
We're looking for more Founding Institutions!
To be a Founding Institution simply means that you commit to booking the exhibit before the exhibit has been built.
It's our way of ensuring the project will resonate with museums and their visitors, and comes with several benefits to the Founding Institution:
We include you in the exhibit credits
We send you behind-the-scenes updates as the project takes shape, giving you a little insight into our exhibit development process
You get first pick at the dates you'd like to host the exhibit
There is no additional cost to be a Founding Institution.
We just ask that you commit to a booking period of more than 60 days, and pay a 50% deposit vs. the smaller deposit required to host existing exhibits.
Interested in becoming a Founding Institution?
Let us know!
---
We're also starting to book the exhibit, so if you are curious about available dates please use this form to contact us.